Get to Know Us
C & E Mechanical is a locally owned mechanical company based in Moose Jaw, Saskatchewan. We are a company that provides heating, plumbing, ventilation, air conditioning and sheet metal services. Our service department is available 24 hours a day.
We are an insured and bonded company that is COR® certified for safety with a highly skilled, innovative team of trades' people. We specialize in residential, commercial and industrial projects and are a full-service mechanical company dedicated to forming lasting and positive working relationships.
Our commitment to providing services that will not only meet but exceed your requirements and expectations is something we offer every single customer.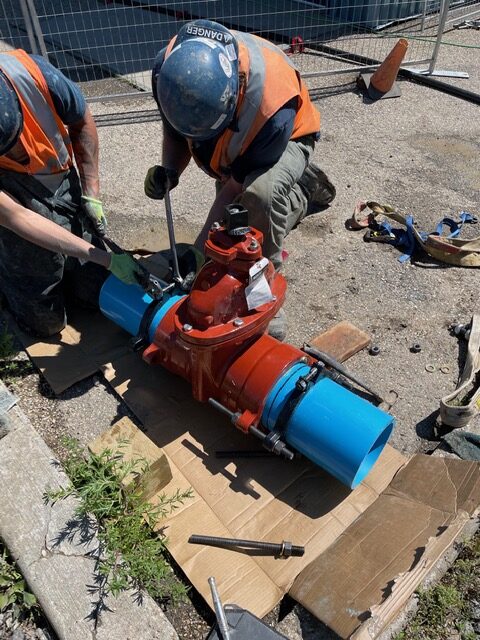 C & E Mechanical is a SaskEnergy Network Member, a member of the Mechanical Contractors Association of Saskatchewan, and a Carrier Authorized Dealer to better serve our customers. 
We are proud of the many years we have served southern Saskatchewan and believe this longevity is the result of hard work, skilled employees, and satisfied customers. Supporting Moose Jaw and the surrounding communities we serve by volunteering for great causes and partnering with caring and giving organizations is also something we take pride in doing.
C & E Mechanical was founded by Carl Young and Ed Schoenroth in 1958. Scroll down to read more about the history of the company.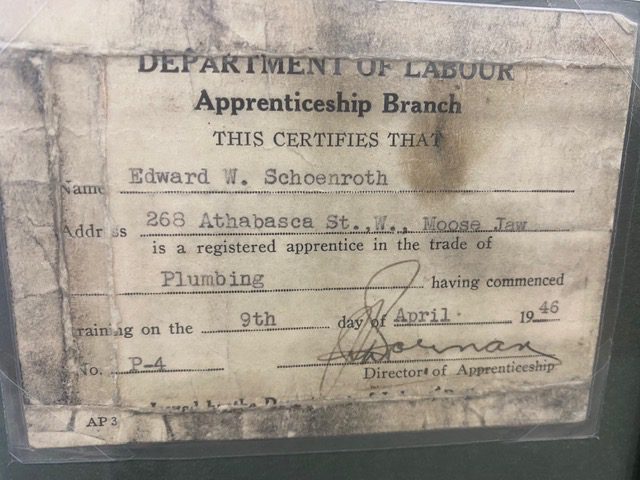 History
When C & E Mechanical was founded by Ed Schoenroth and Carl Young in 1958 it was originally called C & E Heating and Plumbing. In 1975, when Carl retired, Ed introduced his sons' Art and Gary into the business. Together, they grew the business to the point of employing as many as 50 employees.
Ed began his career in the trade in 1946 with a local plumber who won a contract to build wartime houses in Moose Jaw. In April 1946, the employer agreed to register him as an apprentice. Ed laughed that his mother had to approve his contract as he was underage. Ed's certificate was signed by the Director of Apprenticeship "Stanley Dorman". Ed's certificate was the fourth apprentice certificate registered in all of Saskatchewan (No. P-4).
Ed's plumbing career continued to grow as he took on projects of any nature. As an example, C & E was the first in Canada to use ABS drainage and vent piping above ground in the construction of Langdon Towers, a nine-storey high-rise in Moose Jaw. Ed became heavily involved as a Charter Member of the United Association of Plumbers and Pipefitters Union of Saskatchewan (UA), and later the President of the UA Local. He also spent several years as a member of the Board of Directors for the Mechanical Contractors Association highlighted by the National Chair position, as well as many other boards and committees throughout his career. This involvement with the experience helped Ed establish the solid foundation that made C & E one of the best Mechanical Companies in Saskatchewan.
When Ed retired in 1989, Art and Gary took over the business as C & E Mechanical Inc. continuing in Ed's direction in promoting C & E's "courteous and efficient" service.  In January 1997, Art and Gary asked Scott Kerr to join the business. In addition to running the company Art, Gary and Scott all served on the Board of the Mechanical Contractors Association of Saskatchewan including the role of President for the Association.  Involvement in the community and mechanical contracting industry has always been an important part of the company.  Art retired in 2007 and Scott took over as President of C & E Mechanical with Gary retiring in 2014.  On March 31, 2023, after 15 years as President, Scott retired and is leaving the company in good hands.    
C & E Mechanical is presently owned and operated by President, Chris Prebushewski who serves on the Joint Training Committee as did Ed and Operations Manager, Jeremy Kerr who continues C & E's involvement with the Mechanical Contractors Association of Saskatchewan.  The current owners strive to continue the legacy of C & E Mechanical throughout the Province and are committed to leading and managing the company to meet their customer's needs.   
Great people all round. Had to use the SHA emergency program, and through all of the hoops and tribulations Jeremy and the staff were fantastically generous and helpful, the installation crew friendly and professional. Highly recommend!!
Fantastic and friendly staff!
Excellent service!
Very good service, super helpful
Always had fair and effective service. Called this morning about my water heater and had someone over in a 1/2 hour. Fixed.
Always professional and great service- could use more than I guy for A/C repairs tho....